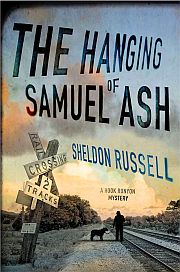 August 20, 2013
St. Martin's Minotaur Books
Hardcover: 320 pages
ISBN-10: 1250001013
ISBN-13: 978-1250001016
$25.99 U.S. / $29.99 CAN.
THE HANGING OF SAMUEL ASH
Railroad bull Hook Runyon and his dog, Mixer, are chasing persistent pickpockets on the Santa Fe line, when Hook is called to investigate a malfunctioning wigwag signal in the middle of nowhere. A young man has been strung up there, hung from the signal, and left strangled to death. Hook finds no identification on the body, other than a bronze hero's medal around the corpse's neck, with the name Samuel Ash engraved on it. Refusing to bury what seems to be a World War II hero in a pauper's grave, Hook vows to find the dead boy's family, as well as his killer.
With the casket in tow, and slowed down by an over-educated sidekick, Junior Monroe, and a stream of new tasks from the head of division, Hook finally finds his way to Carmen, Oklahoma. But no one there has ever heard of anyone named Samuel Ash. There are secrets in Carmen, most of them associated with the local orphanage and its disliked director, and Hook is determined to get to the bottom of the mystery of the hanging of Samuel Ash.
Vivid characterizations, searing descriptions, and a twisty plot make Sheldon Russell's
The Hanging of Samuel Ash
a gripping read.